In today's Southeast Texas Business News, we look at a nice program offered by the BBB of Southeast Texas: Shred it and Forget It.
This event is one the BBB has hosted several times in Beaumont Tx, giving local business owners the chance to safeguard confidential information.

Saturday, September 19
Parkdale Mall – Beaumont
Individuals are asked to bring old credit card statements to be commercially shredded – absolutely FREE!
10:00 AM until 1:00 PM
Limit of 5 boxes per vehicle
(Box size approximately 10 x 12 x 15 inches)
The Better Business Bureau of Southeast Texas stresses the importance of shredding business and personal confidential information to prevent Identity Theft.
Shred It and Forget It Beaumont – Shred it and Forget it Southeast Texas.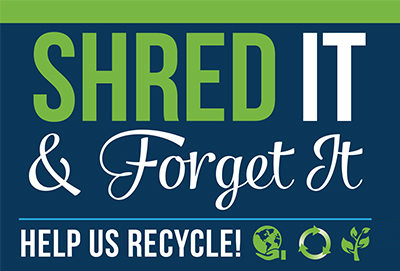 We hope you have enjoyed today's edition of Beaumont Business News.
Stay tuned for more in The Southeast Texas Commercial Real Estate Magazine, on our website, or "Like" Southeast Texas Commercial Real Estate to receive the latest Beaumont Business News right on your cell phone or iPad.