Today's Southeast Texas Subcontractor Spotlight shines on Southwest Building Systems (SBS) in Silsbee.
SBS Systems is an excellent resource for Southeast Texas mass notification systems, commercial fire and security alarms, hospital call buttons, stadium sound and video display systems, and more.
When you're investing in commercial property in Southeast Texas, it is essential to have some "go to" Golden Triangle subcontractors. If you have the right network of professional landscapers, plumbers, electricians, alarm companies, and AC contractors, they will make your life easier.
SBS is a family owned business that has been grown by three generations of the Thornhill family. They are widely known for providing commercial security and fire alarm systems for businesses, plants, churches, schools, and refineries across Southeast Texas, but like many local subcontractors they have a lot more to offer.
Today the face of the company is David Thornhill.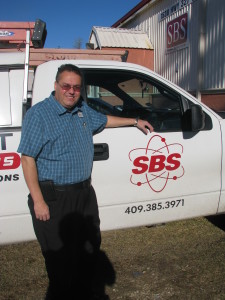 David is a big believer in locally owned Southeast Texas businesses working together. He is a common fixture at local Chamber of Commerce and BBB meetings, where he takes enjoyment from pairing local companies together. He is also an active member of the Southeast Texas Networkers BNI Chapter (Business Network International), serving as their Education Coordinator.
We were able to spend a few minutes with David getting a better idea of what Southwest Building Systems has to offer the SETX commercial real estate community.
David, many of our readers already know SBS for your security and fire alarm systems. What are some of the other services you can assist them with?
Whether you're building a new facility or retrofitting a property to meet your needs, I believe SBS has a lot to offer Southeast Texas property management companies and general contractors. We do a great job with intercoms. In the world we live in, intercoms have become a valuable tool for everyone from industrial facilities to small churches. We offer professional quality sound whether you're building a new high school or college stadium or just want your warehouse guys to be able to listen to great music while they work (check out the system we put in for Modica Brothers in Silsbee- those guys are jamming). We can do great AV systems for video conferencing, professional presentations, or closed circuit TV. We also do well with mass notification systems for Southeast Texas industrial plants, school districts, and even small businesses. We just wrapped up a big mass notification project for MeadWestvaco in Evadale.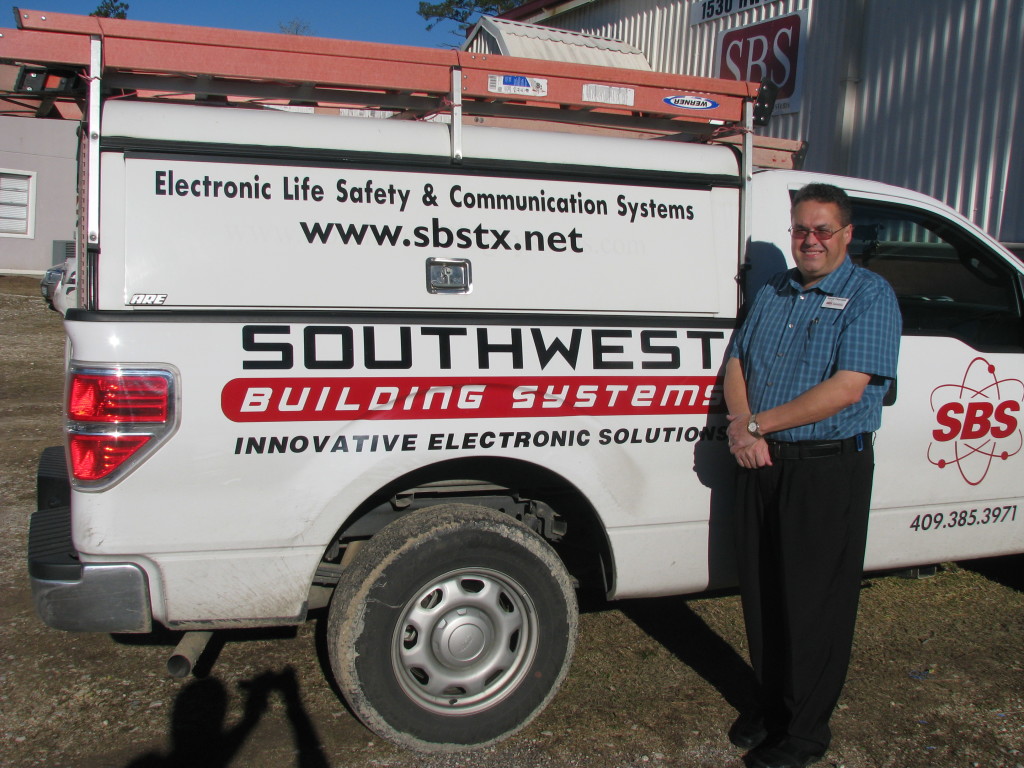 For those who haven't installed a mass notification system for their Southeast Texas commercial or industrial properties, can you tell us more about what they are and how they can be beneficial?
Southeast Texas mass notification systems are one of the services SBS Systems offers that can literally save lives right here in the Golden Triangle. We don't believe in scaring you, but we do believe in informing you. On the simple side, let's say you have a midsized industrial services facility in Mid County and we get a bad flood or a fire that affects a small part of the operation. Your SETX mass notification system can tell your workers what you need them to know – stay home today, come into the office like normal, or "Exxon needs us to help repair damage from the storm, assemble at …. and we will go to the jobsite together". Our Southeast Texas mass notification systems can reach your team by phone, EM, overhead speaker (on-site), and text.

What are some other scenarios when SETX mass notification systems can be valuable?
We've all seen news from communities small and large where there is a shooting or a fire.
These are often directional threats – one person or one incident on one side of your facility. Our Southeast Texas mass notification systems can override your normal evacuation or emergency plan and give people the revised real time information they need- "exit the rear of the building only", "remain in place and wait for an update or assistance from first responders", or "avoid the north stairwell". Your SETX mass notification system can get your people exactly the information they need, exactly when they need it.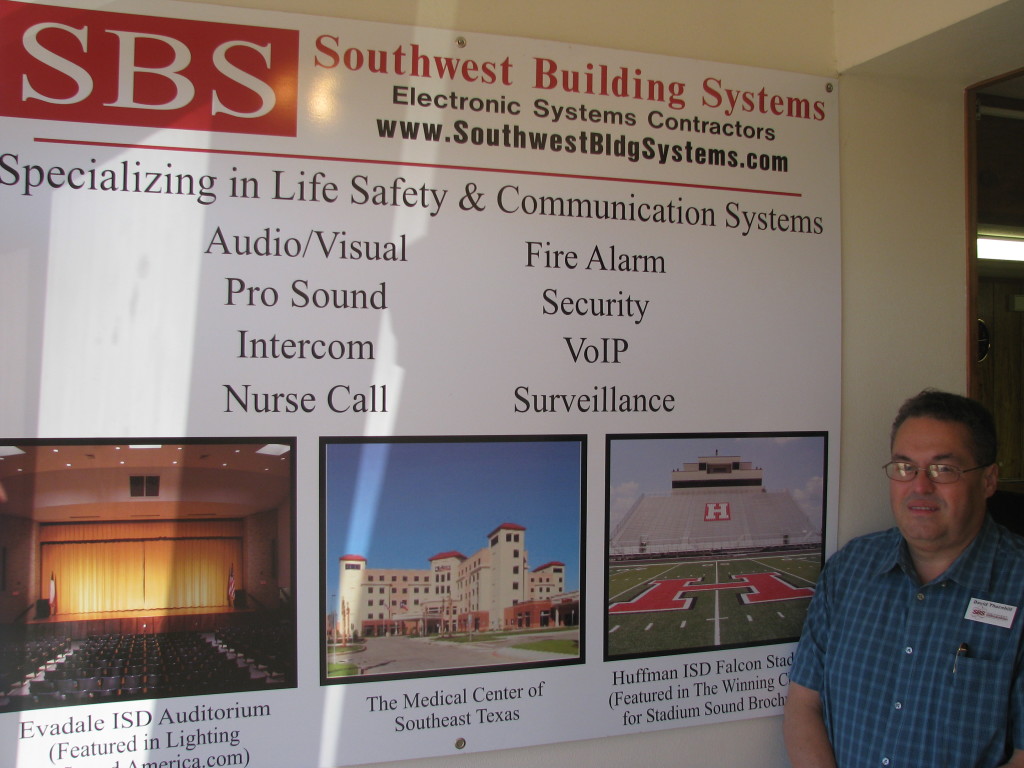 Thanks for all of your time today David. We will look forward to catching up with you again soon. Do you have any final words for our readers on how to become a "go to" subcontractor in Southeast Texas?
For each of us, the way we do each job reflects in a lot of other areas. For me, our business is a family owned business. I am carrying on the work my father started and preparing something to pass on to my son and I'd love for my grandchildren to take over one day. I want to honor the reputation my father built and to pass on a solid reputation to the next generation.  I'm a local guy. People see me around Beaumont and Silsbee and at church in Lumberton. Every minute I'm working, I'm dedicated to doing the right thing, so I can always reflect the right kind of light on my co-workers, family, and community. We make mistakes, but we own them and fix them right away. All my guys know that they're never going to get in trouble with me for fixing a problem. When people s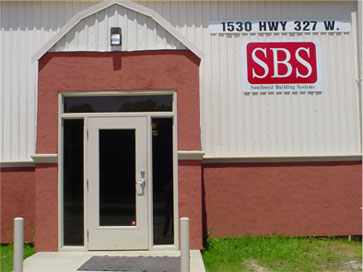 ee our logo, I want them to say, "Those guys stand behind they're work. I'd definitely hire SBS again".
Do you have Southeast Texas commercial construction project that will need a fire alarm, security system, professional sound or video, or a mass notification system? Contact Southwest Building Systems today:
Office Phone: (409) 385-3971
E-mail: contact@sbstx.net

We hope you have enjoyed today's Southeast Texas Subcontractor Spotlight.
Stay tuned to Southeast Texas Commercial Real Estate Magazine for more SETX subcontractor profiles.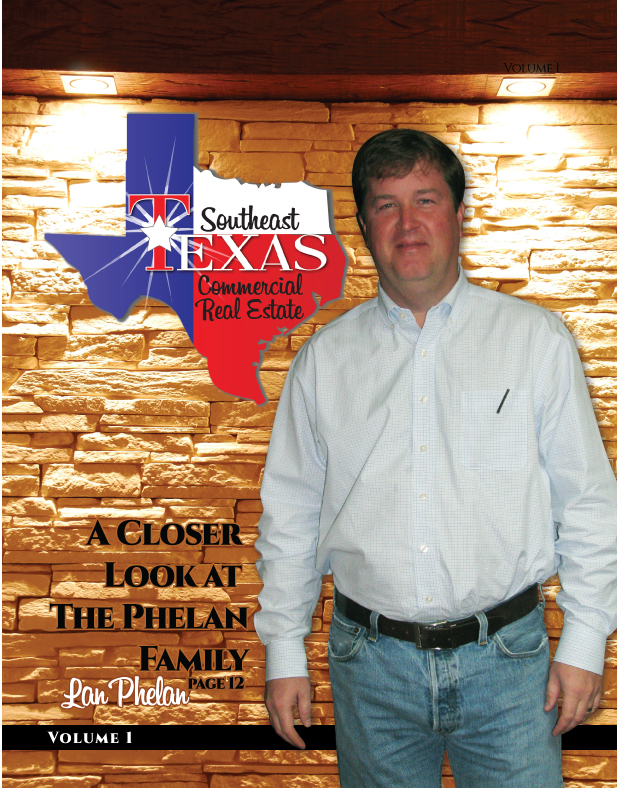 We'll be highlighting Golden Triangle plumbers, electricians, air conditioning contractors, commercial landscapers, and other professionals that can help you with your next project.
Would you like to advertise your company or your commercial property in our Southeast Texas Commercial Real Estate Magazine?
Call or EM to schedule your SETX Advertising appointment today:
Daryl Fant, Publisher
(512) 567-8068
SETXCommercialRealEstate@gmail.com
Our magazine and website are designed to promote your business and your commercial and industrial properties.
Each month we highlight the players in our market:
Southeast Texas Commercial Realtors
General Contractors and Subcontractors
SETX Property Management Companies
Put Southeast Texas Commercial Real Estate Magazine to work for you.