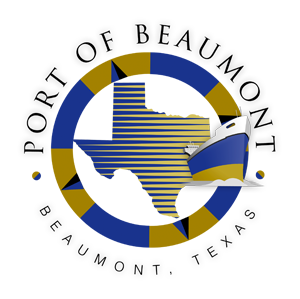 Southeast Texas Economic Engine
The Port of Beaumont
The Port of Beaumont has been linking Southeast Texas to the world since 1908.
Industry runs on logistics – how can I get products in and out of my market on time and on budget?
A warm, deep water port is a tremendous asset for any industry. In Southeast Texas it has been a key to our success with oil, natural gas, rice and grain, steel production, and timber.
In 1916 the port began to take on something of the shape we know today. The channel was deepened to 25 feet. A turning basin was created in a bend of the river. Local businessmen created dock facilities along the waterfront. From this facility, we could send our timber, grain, and cotton out across the globe.
If you're making money in The Golden Triangle's commercial sector, the port is behind the scenes smoothing the way across industries: petrochemical, construction, military, agriculture, timber, alternative energy, and automotive.
The mission of The Port of Beaumont is straight forward – to improve ease of navigation and to develop maritime shipping and waterborne related commerce.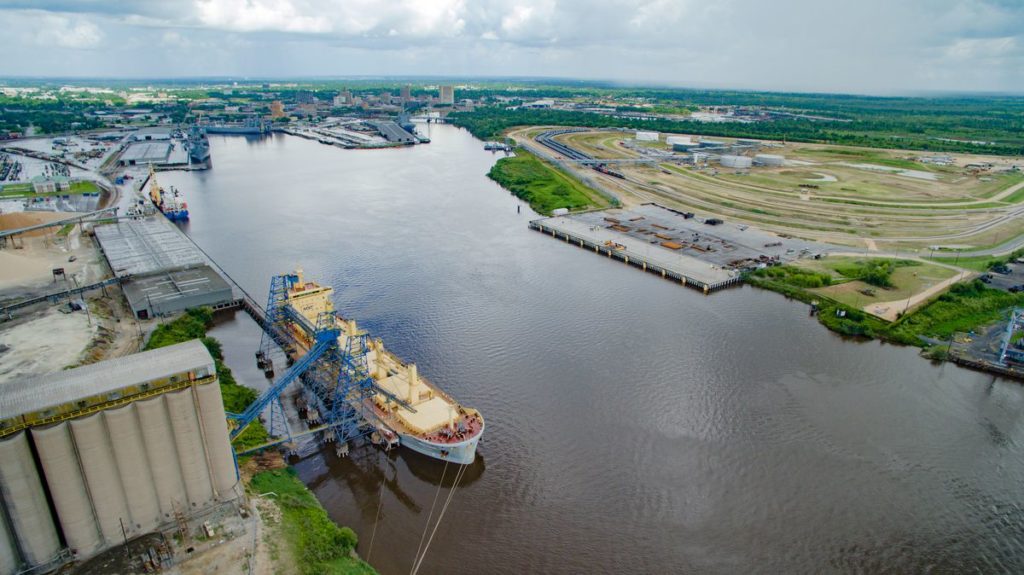 The port has excelled in that mission.
Today, The Port of Beaumont ranks:
World's busiest military port

Fourth busiest port in the United States

Thirty-fourth largest port worldwide (tonnage)

On the path to become the largest LNG exporter – and importer – in the nation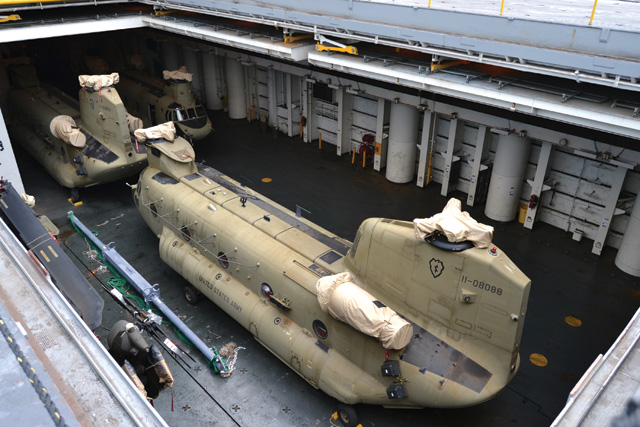 The Port of Beaumont is part of the Sabine-Neches Waterway which is the number one import route of crude oil by ship in the country.  The Sabine-Neches Waterway is also home to about 57% of the U.S. petroleum reserves. There are 50 states, many of them with significant presence in petroleum production. Half of the country's oil reserves are within an hour's drive of your house. That is a very big deal.
To remain a dominant player in the global shipping world, The Port of Beaumont is in expansion and improvement mode. Partnerships with private industry are growing the resources the port can provide. A partnership with Jefferson Energy Company has created a 250-acre petroleum unloading and shipping center on the east bank of the Neches River Ship Channel at The Port of Beaumont. Their heat assisted heavy crude unloading system provides the high sulfur heavy crude from Canada on which our refineries depend. The terminal is accessible by rail, interstate highway, and marine transport. This public / private initiative is a key player for our region and our major refinery employers who have the ability to process 1.5 million barrels of oil each day.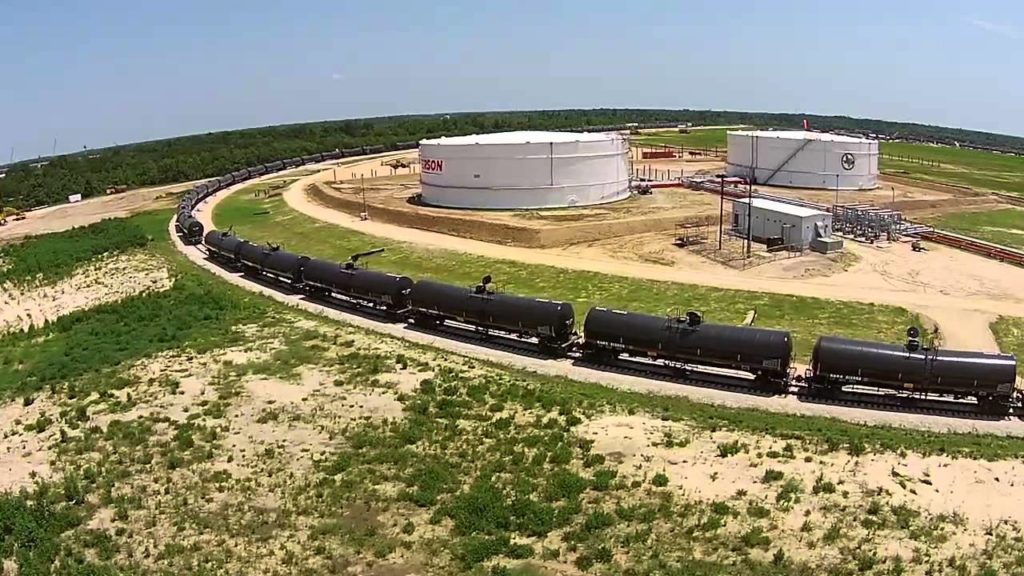 One growing import is Eucalyptus wood pulp from Brazil. The high quality pulp is in demand for high end paper towels, tissue paper, and toilet paper. Volume has grown to 20,000 tons per month and is projected to keep growing. Eucalyptus is uniquely positioned to prosper in a "greening" world. It is harvestable every seven years and an entirely renewable resource. From The Port of Beaumont, the pulp is delivered via rail to manufacturers across the country.
One of the big issues we've covered in this magazine is the challenge of finding local candidates for skilled, high paying jobs. The Port of Beaumont has a key ally in Lamar University. Lamar offers a Masters of Engineering Management Program that is ideal for Port Management candidates. The program is a partnership between Lamar College of Business and their Department of Industrial Engineering. The program also offers certifications in port management. Graduating candidates are proficient in understanding costs, project management, leadership skills, risk assessment, and evaluation of engineering estimates.
For more information, contact Dr. Brian Craig, PE, CPE. (409) 880-8804. Brian.Craig@Lamar.edu.
In 2015, the Port of Beaumont was awarded the Spindletop Award. The award is considered the top award given by the Greater Beaumont Chamber of Commerce and recognizes an enduring business or entity that has had a positive economic impact on Southeast Texas. The Port was chosen in part for its $200 million in annual economic circulation and cumulative local employment of 3,700 people.
The Port of Beaumont is a key economic force in Southeast Texas.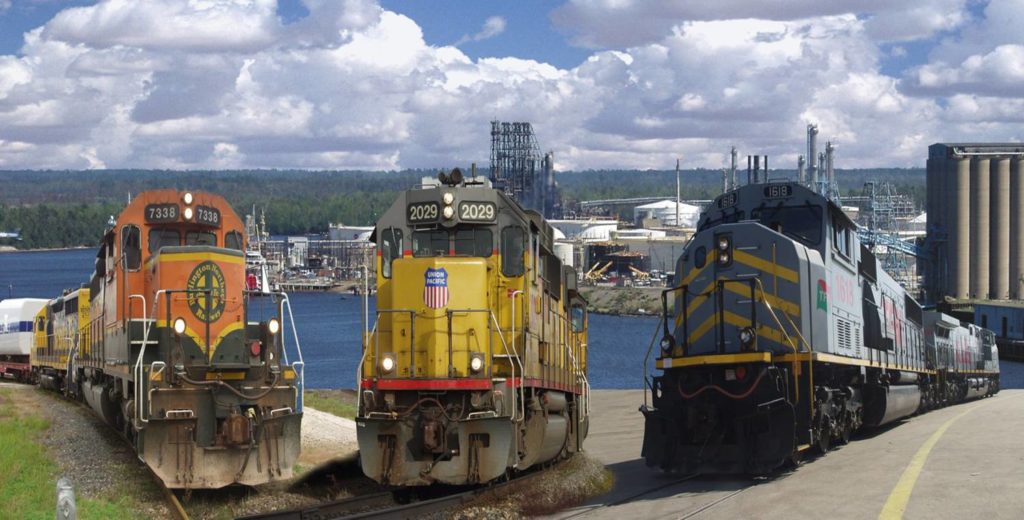 Are you looking for more of the forces that drive the Southeast Texas Economy?
Stay tuned.
Daryl Fant, Publisher

Refined Magazine

(512) 567-8068

SETXAdvertising@gmail.com
Southeast Texas Commercial Real Estate Magazine provides over 200 articles each year covering commercial and industrial real estate, construction, and development.
You can find us online 24/7, receive regular updates via social media, or you can pick up our magazine at over 200 locations across the Golden Triangle.
Click here to like the Southeast Texas Commercial Real Estate Magazine on Facebook.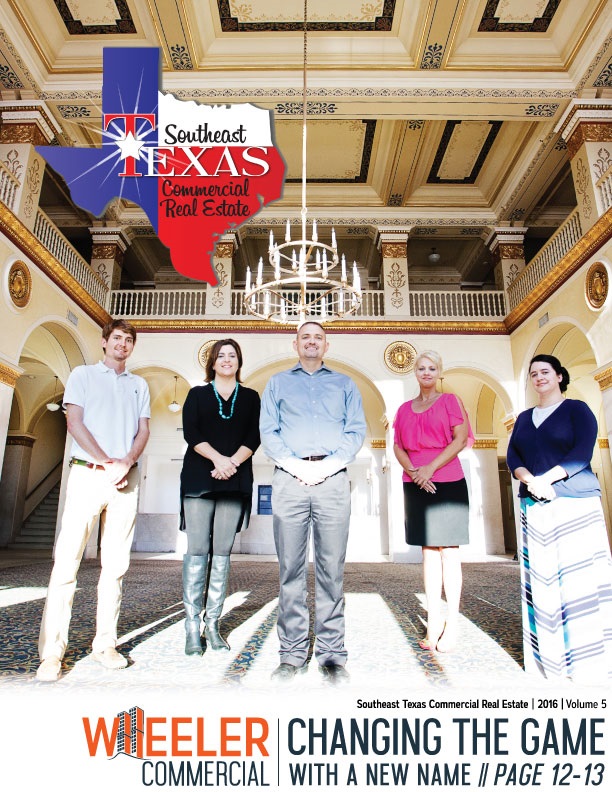 We hope you have enjoyed learning more about The Port of Beaumont, over 100 years of driving the economy of the Golden Triangle