Are you looking to meet and network with Southeast Texas contractors?
Don't miss the 2015 AGC Southeast Texas Washer's Tournament, scheduled for Thursday October 15th at the AGC.
This is a great chance to network with SETX general contractors.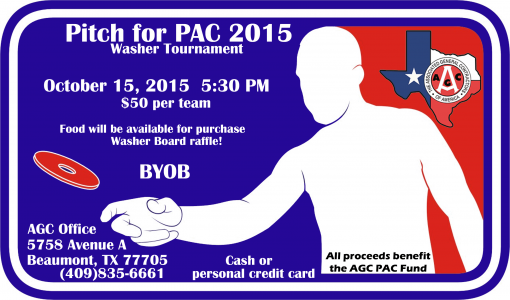 Enjoy great food, cold drinks, and the chance to socialize with a wide range of Southeast Texas contractors- general contractors, electricians, plumbers, alarm and security companies, and more.
Would you like more opportunities to network one on one with Southeast Texas general contractors?
Join the AGC of Southeast Texas.

The AGC is the networking arm of the Southeast Texas contractor community.
Click here for more information about the AGC of Southeast Texas.
We'll see you Thursday October 15th for the 3rd Annual AGC Southeast Texas Washers Tournament – Southeast Texas networking fun.
This will be a fun opportunity to network with our Southeast Texas contractors.